The author
Hélène Cixous is the author of more than 44 novels, 14 plays and 15 volumes of theory and essays. Her work has been translated into more than 30 languages.
She was born in Oran, Algeria, in 1937. Her father, a doctor, was of Sephardic Spanish Algerian origin. Her mother, Eve Klein, an Ashkenazi from Osnabrück, Germany, became a midwife in Algiers. She grew up in Oran and Algiers before moving to France in 1955, where she quickly gained the Agrégation and a Doctorate in English Literature in 1968. She was instrumental in founding the experimental Université de Paris VIII in 1968. She created the first French doctoral program in Women's Studies in 1974. She is now Emerita Professor. Since 1982 she has been teaching a regular seminar in Philosophy and Literature at the Collège International de Philosophie.
From 1995 to 2003 she was Distinguished Visiting Professor at Northwestern University (USA).
She has been Honorary Professor at the Universities of Cardiff and Sussex since 2001. Since 2007, she is currently A.D. White Professor-at-large at Cornell University (USA).
In 1962, she meets Jacques Derrida. They share, during a long friendship, several political and intellectual activities (The beginning of Paris VIII University, Centre National des Lettres from 1981 to 1983, Parlement International des Écrivains, Comité anti-apartheid, symposiums, seminars at the Ciph, common or crossed publications).
In 1972, she meets Ariane Mnouchkine. They share, at that time, their activism: GIP, AIDA. In 1984, she starts writing for the Théâtre du Soleil and follow since then Ariane Mnouchkine's creations.
Cixous's publications in English translation include The Exile of James Joyce, Inside, The Newly Born Woman, 'Coming to Writing' and Other Essays, The Book of Promethea, Three Steps on the Ladder of Writing, Manna, The Hélène Cixous Reader, Rootprints, Stigmata, FirstDays of the Year, The Third Body, Veils (with Jacques Derrida), Selected Plays of Hélène Cixous, Portrait of Jacques Derrida as a Young Jewish Saint, The Writing Notebooks of Hélène Cixous, Dream I Tell You, Reveries of the Wild Woman, The Day I Wasn't There, Manhattan Letters from Prehistory, Love itself, Hyperdream, Insister of Jacques Derrida, Poetry and Painting, Hemlock. Etc.
She has been 'house playwright' at Ariane Mnouchkine's Théâtre du Soleil for more than twenty years. Plays written for and staged by the Soleil include The Terrible but Unfinished Story of Norodom Sihanouk, King of Cambodia (1985) ; The Indiad or India of Their Dreams (1987) ; The Perjured City (1994) ; Drums on the Dam (1999) ; Les Naufragés du Fol Espoir (2010).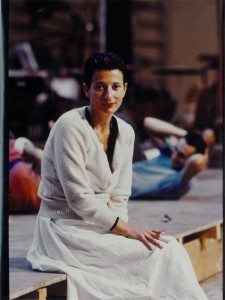 Honorary degrees :
Queen's University, Kingston (Canada),
University of Alberta, Edmonton (Canada),
York University, England (UK),
Georgetown University, Washington D.C. (USA),
Northwestern University, Chicago, Il. (USA),
University of Wisconsin, Madison, WI. (USA),
Saint Andrews University of Fife, Scotland (UK),
University College London (UK),
University College Dublin (Ireland).
Literary Prizes include the Prix Médicis (1969) and the Prix des Critiques for best theatrical work (1994). Prix des Critiques pour le meilleur spectacle théâtral (2000).
Civil Honours :
1989    Southern Cross of Brazil for literary works
1994    Chevalier de la Légion d'Honneur
1997    Ambassador of Star Awards, Star Girls & Women Fondation (Pakistan)
2010    Commandeur de l'Ordre du Mérite