Phare Ponleu Selpak
Phare Ponleu Selpak (PPS), which means "the brightness of art", is a cultural organisation in Battambang, Cambodia, that offers young people a way out of poverty by training them to become professional artists and performers. Set up in 1994 by young returnee Cambodians from the refugee camps who learned about using art as a means of coping with trauma, PPS has played an influential role in promoting and developing Khmer culture over the years after the Khmer Rouge genocide.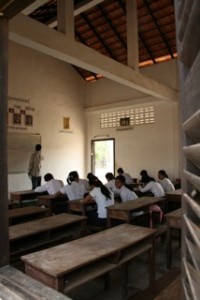 PPS working mainly with disadvantaged young people and emphasizing self-development and sustainability. PPS teaches circus skills, theater performance, music and a range of visual arts. It combines local traditions with new creative and innovative genres. Daring athleticism is combined with stories that speak powerfully to our not-too-distant history; for example, escape from tyranny is depicted through tightrope walking. The dark subject of Sokha, a young girl trying to deal with memories of atrocities with the goal to transmit its skills to the next generation, is relieved by breathtaking acrobatics in whichseemingly impossible goals are achieved. Other productions includes Hélène Cixous' play on the Terrible but Unfinished story of Norodom Sihanouk, King of Cambodia, written and played by the Theatre du Soleil in France in the 80′s before being translated in Khmer and played by PPS in 2011.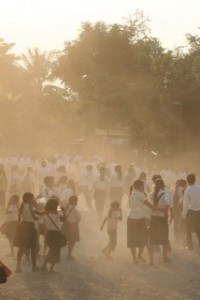 Over 18 years, PPS has become a professional art school and effective social center with far-reaching impact. The Rommet, its art gallery in Phnom Penh and public performances inspire people in a country devastated by war.  Students graduated with skills that help them earn a living:  They teach, perform, and have set up independent cultural initiatives. The circus theater group performs nationally, regionally and internationally, and recent tours to Bangladesh and Thailand included circus workshops for disadvantaged teenagers. PPS also organises the important annual Tini Tinou International Circus Festival, which facilitates cross-cultural exchange and collaboration.
PPS is also bringing classic education to young of the Anh Chan district thanks to a publicschool built in 2000 and welcoming now 1400 children from Primary to High school. It is working with the open and public library based in the campus open to everyone. In PPS, the approach is global in the sens that to have the best development possible, these children need to have a formal and unformal education.
PPS is a Cambodian non-profit association steers underprivileged children and youth towards a better quality of life through cultural, artistic, educational and social skills. We envision the arts as an instrument for human development and social change; a way of securing a brighter future for our community, gaining national and international recognition for Cambodian arts.
More :
www.phareps.org
Article from Catherine Bédarida, Le Monde 2005.
---
Le père Ceyrac
Born on February 4th 1914, Pierre Ceyrac, is a French Jesuit known for his commitment to the poorest populations. He spent a big part of his life in India. He has also been volunteer from 1980 till 1992 in the camps of Site II and Khao I Dang, on the border between the Cambodia and the Thailand, to take in the first thousands of Cambodian refugees fleeing the regime of Pol Pot. He died on May 30th, 2012 in India, at the age of 98.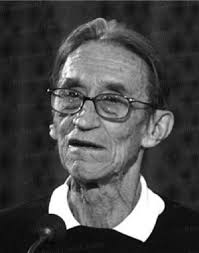 You can consult two links including videos presenting him in Cambodia :
Portrait du Père Ceyrac au journal télévisé, 1985.
Le grand voyage du Père Ceyrac.
as well as a text from Véronique Decrop evoking her route by his side :
Acteurs, a text Véronique Decrop.